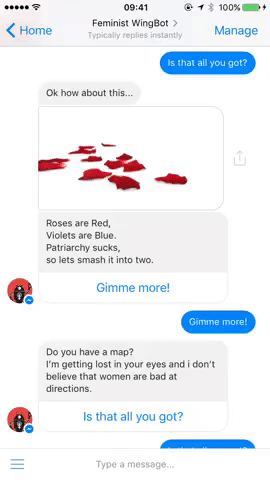 FEMINIST WINGBOT
An initiative project created to launch the week before Valentine's Day 2017, I built a facebook messenger chatbot to be the respectful wingman for those interested in dating Feminists.

Message the Feminist Wingbot and it'll deliver a stream of pick-up lines for that lady you'd like to deliver a pick-up line to — in a respectful way. The bot aims to help people "impress that feminist in your life" by providing these empowering pick-up lines, complete with relevant gifs.
This personal project have got 5 million impressions in a week, and have been covered on international press and sites such as Mashable, New York Post, The Sun and etc.
CHAT WITH THE FEMINIST WINGBOT